The Lunar Gold Square Wave is bright and shiny, with warm golden reflections. Its rich gold color is a result of the galvanization process that also protects the sculpture from humidity and other atmospheric agents. Each Square Wave is assembled by hand in Italy by our skilled artisans, making each one unique. It is delivered with elegantly finished black packaging, making it a truly unique gift. Square Wave is a beautiful addition to a home or office, as it's also a stunning sculpture and decor piece. All Square Waves are treated against corrosion, so they are perfect both indoor and outdoor!
THIS OFFER INCLUDES:
1X SQUARE WAVE LUNAR GOLD (CLASSIC EDITION)
1X BASIC ACCESSORY HANGING KIT
1X HIGH END GIFT BOX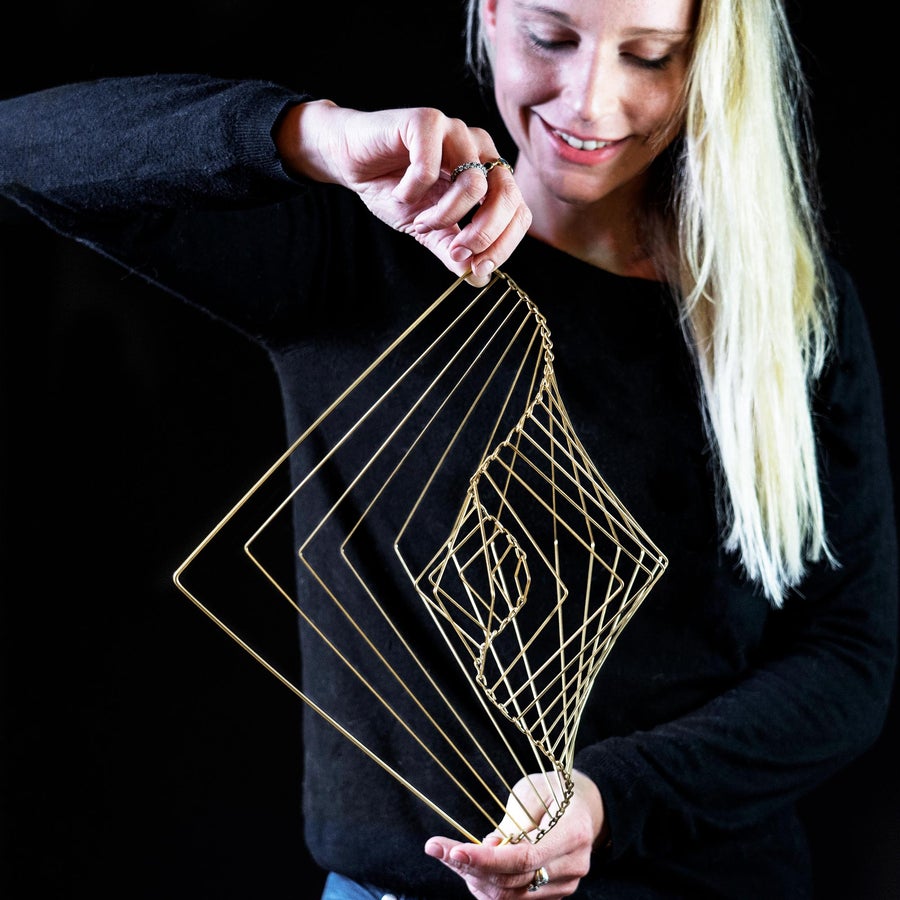 Square Wave was designed by the award winning artist Ivan Black. His work reflects a fascination and kinship with the mathematical patterns found everywhere in nature e.g. waves, leaves, shells, the human form etc. Tending towards the minimalist in design, his work reveals how order silently governs our seemingly disorderly world.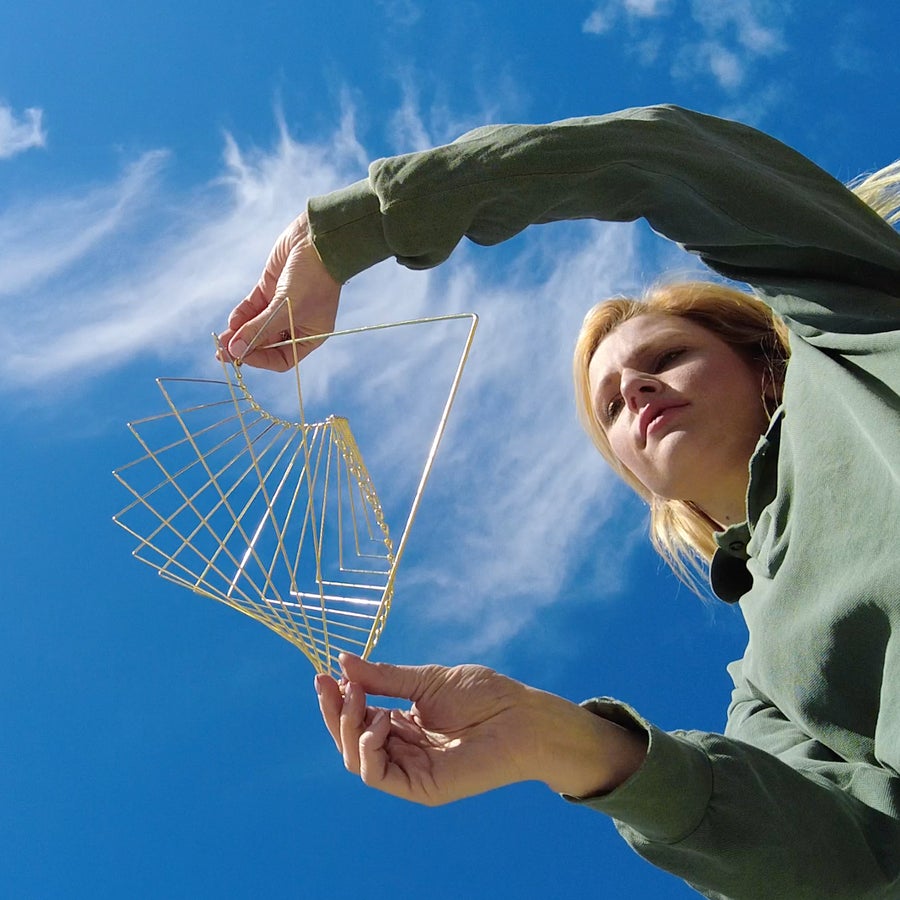 Square Wave: original design by Ivan Black (UK).
Additional adaptation: Atellani Design Studio - Kinetrika
Materials: 100% sourced in Europe, 100% handmade in Italy.
Square Wave is perfect for both indoor and outdoor use (yes, you can hang it in your garden or patio).Each and every Square Wave is assembled by hand in the North of Italy, near Lake Como and tested for approval, making each one simply unique and original.Square Wave: 9.8 in x 9.8 in (25 cm X 25 cm). Weight approximately 0.24 Pounds / 110 g.Main component: S234JR pre-galvanized steel - highest quality chrome plated steel or the best plating available to make it durable and look precious and always amazing.The Stand: Height: 18.5 in. (47 cm). Diameter and the height of the base are 1.96 in. (50mm). Weight: 1.74 pounds / 790 g.Made of FE360 Steel & FE360+Carbon Steel (EU) with a Neodymium magnet (EU). Paint is certified and does not contain: nickel, gold, cadmium nor lead. Square Wave Stand is made in the EU.

SQUARE WAVE AS AN ART PIECE
Timeless elegance
Square Wave was originally created as an artistic sculpture long before it was considered to be a relaxing, mind focusing dynamic kinetic spinner.  When not in use, it adds an element of elegance to any style interior whether it be modern, classic or vintage.  Square Wave is the perfect accent for every room in your home or office.  Its beauty is timeless and it never seems out of place. You can hang it from the ceiling as kinetic sculpture or play with it whenever you feel like it. Square Wave is a truly rare and unique example of originality combined with stunning design.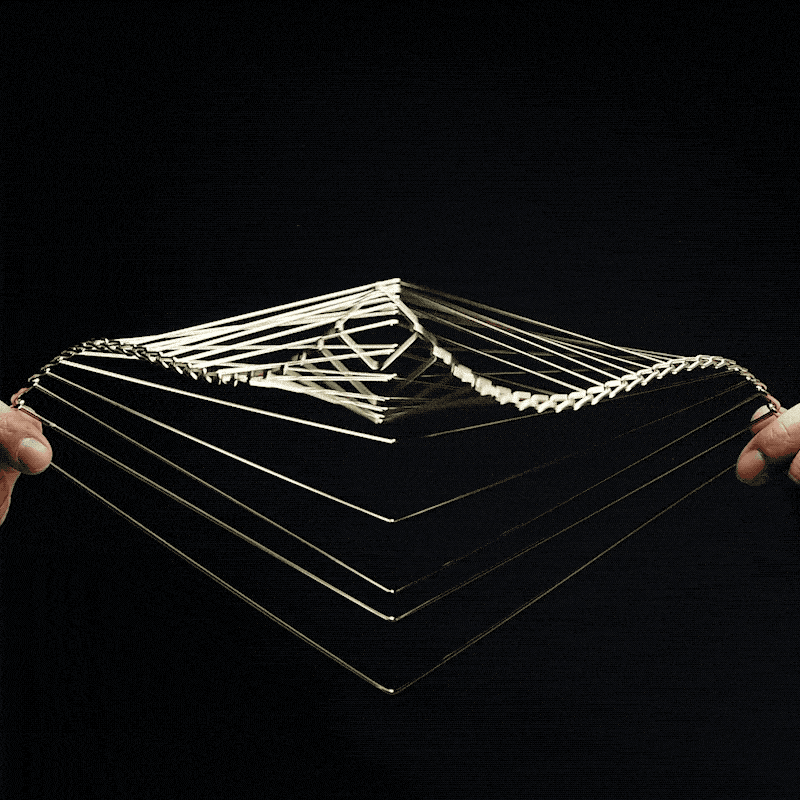 STRESS RELIEVING KINETIC ART
Maximum relaxation
Square Wave is a beautifully designed work of art, intended to be admired and add natural, simple beauty and elegance to your home or garden. It's inherently intuitive to use! Square Wave is also perfect when it comes to helping us relax, meditate and reflect on life, it is the ultimate stress reliever precisely because of its mesmerizing waves and soft turning motions, like a bird in flight, or a tree blowing in the wind.

THE ORIGINS OF SQUARE WAVE
Discovering the kinetic world
The word Kinetic finds its origins in the ancient Greek word "kinesis" meaning motion or the act of motion. The definition of kinetic is deceptively simple, because of the history and domain which it has occupied ever since humanity began theorizing about it. Kinetic curiosity became a popular topic thanks to people like the German theorist, philosopher and mathematician Gottfried Wilhelm von Leibniz and his interest in the likes of Christiaan Huygens and Christopher Wren's theories. Leibniz would venture on to publish his formulae on kinetic energy distribution, for which he was initially ignored and ridiculed by his peers.


AN ORIGINAL IDEA BASED ON MATH
What is Square Wave?
Square wave is an original kinetic art piece created by Ivan Black and inspired by Fibonacci's mathematical sequence, the basic structure that is at the origin of every living thing. Just spin it to get surprised by a series of mind-bending optical illusions, and unexpected hypnotizing revolutions.
Square Wave is made up of 24 connected metal rods which curve and mutate unexpectedly with the introduction of energy. 

AWARD WINNING ARTIST
About Ivan Black
Ivan Black (b. 1972) London, is an award winning British sculptor. He began making sculptures at an early age, motion quickly becoming central to his work, adding another dimension of complexity and interest to his experiments.Ivan Black's work uses a series of unique mechanisms to create moving sculptures. Energy is channeled into Black's works through anything from the interaction of the viewer to the natural power of blowing wind and the targeted use of principles of gravity. When the intended form of energy interacts with the sculpture, it plays out a chain reaction creating shifting patterns of motion from random to highly organised movements

A BEAUTIFUL GARDEN SCULPTURE
Perfect indoor and outdoor
Square Wave is made of steel and is treated for both indoor and outdoor environments. Yes, You can hang it in your garden, display it on the optional Magnetic Stand as a garden sculpture or on your patio, Square Wave is made to last. Dimensions are: 9,8 x 9,8 in (25 x 25 cm). You can admire it In a statuesque standing position, or hang it from the ceiling as a wonderful art piece, or play with it, as it also becomes a relaxing kinetic toy. Either way, Square Wave is a rare example of originality and the perfect gift for people that already have everything. It is also a wind spinner! Once you hang it, just add a small weight at the bottom and with the right wind, you can watch it move and turn.


Different Ways
 

To Use Your Square Wave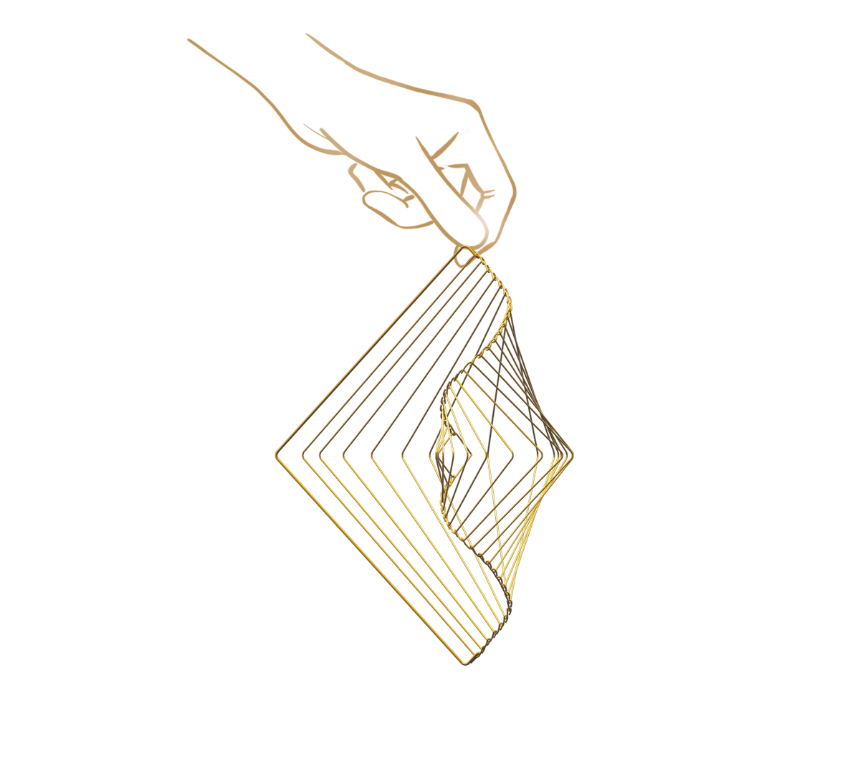 Spin it with a flick of your wrist, and watch the magic happen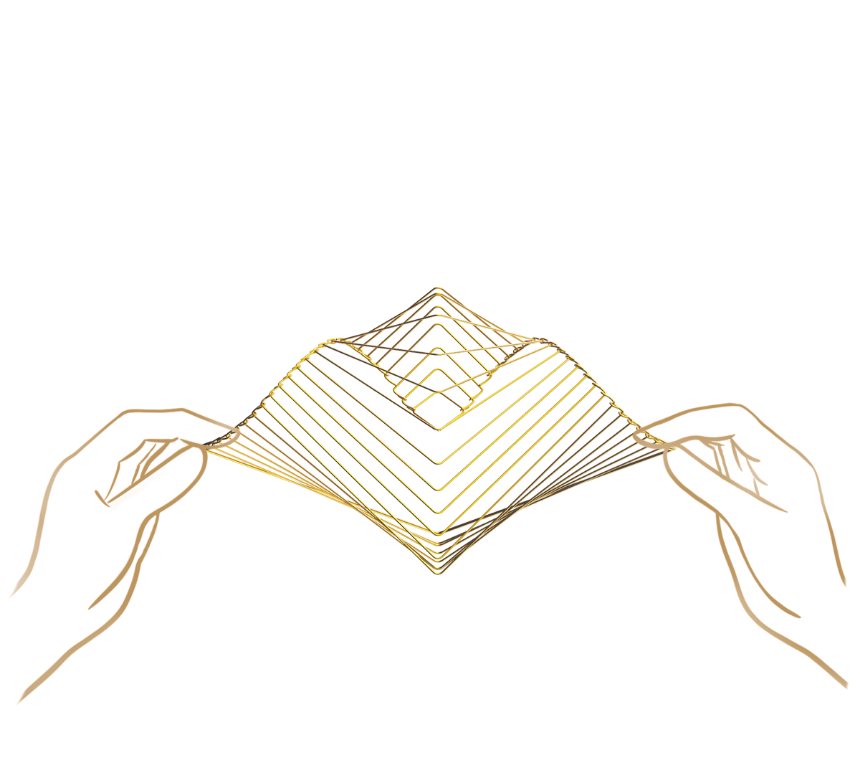 Spin it with both hands, by holding it by its edges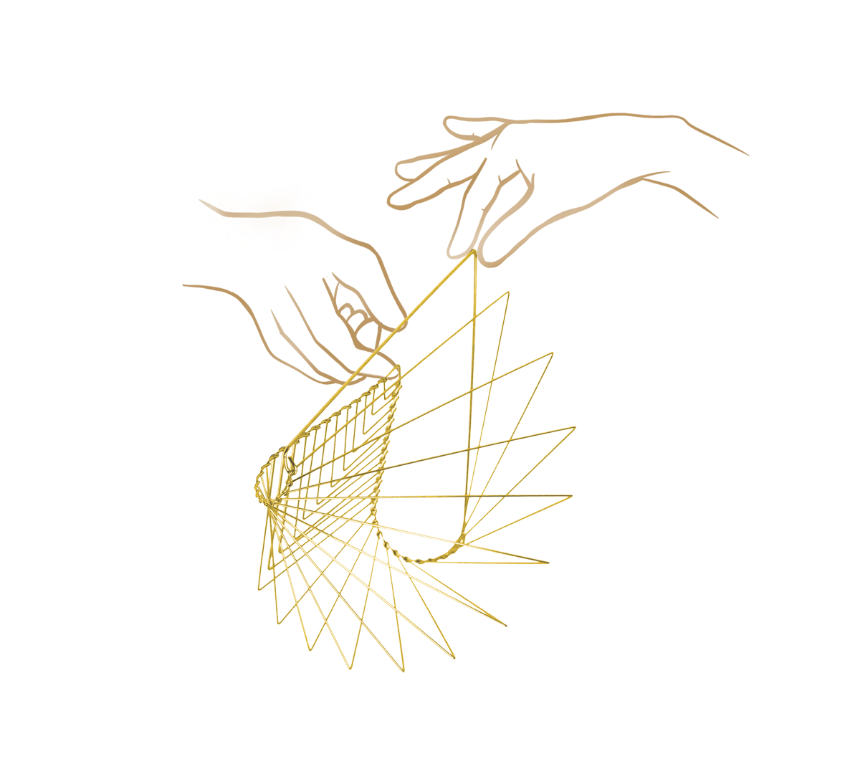 Create mind-blowing shapes and mesmerizing geometric patterns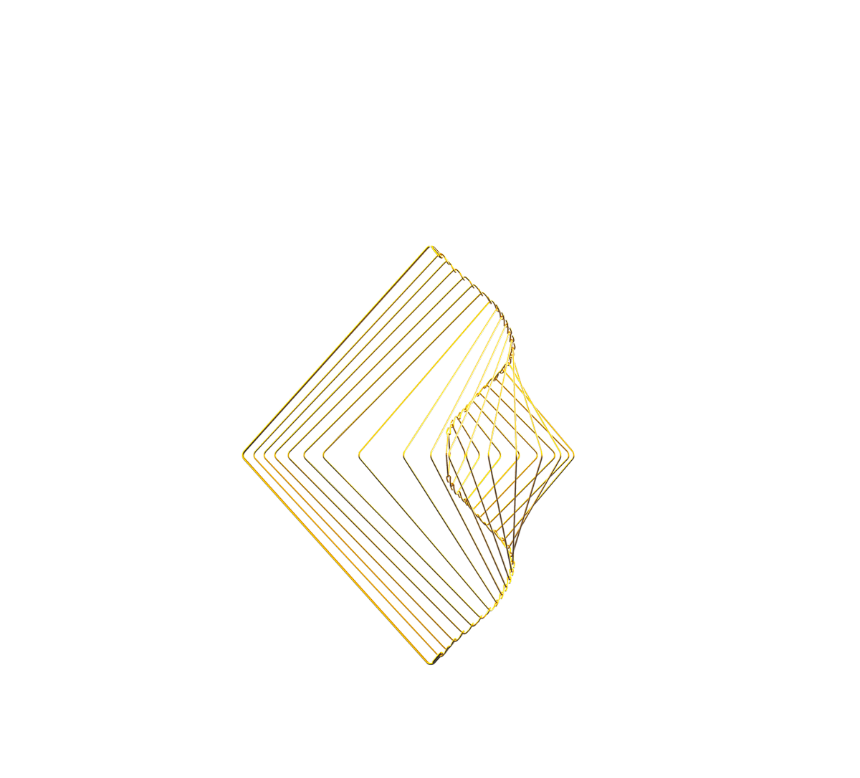 Hang it from the ceiling, using the standard kit provided with each square wave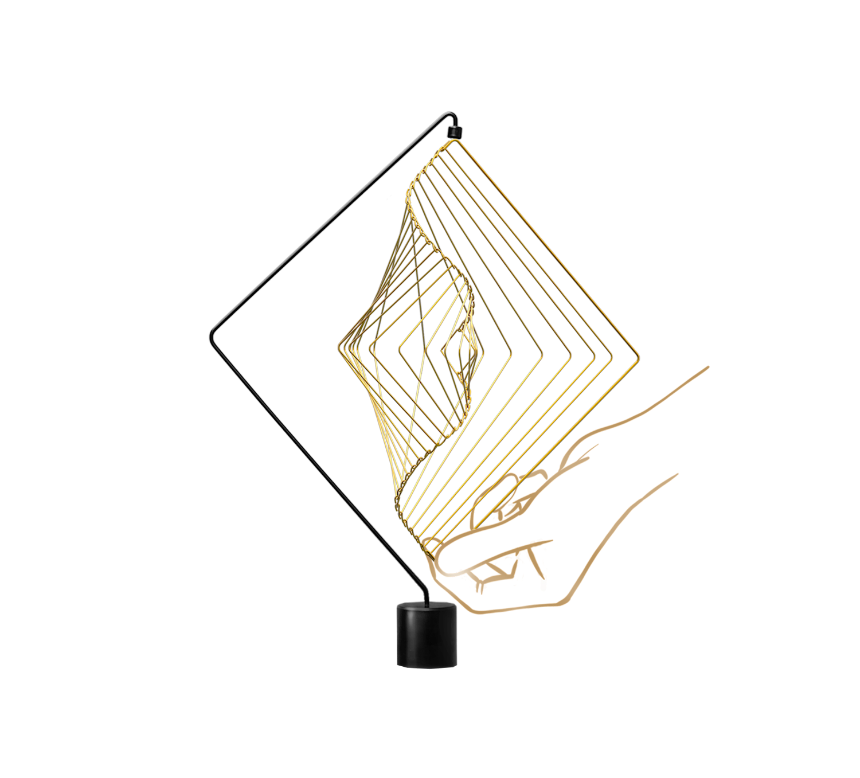 You can add the optional Magnetic Stand to enhance your experience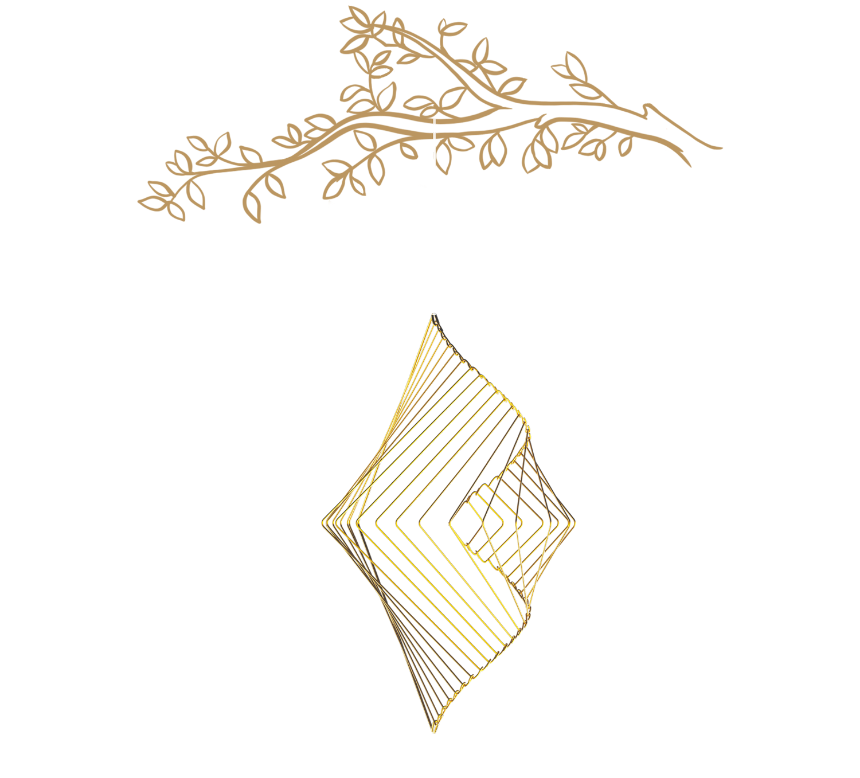 Square Wave can be displayed indoors and outdoors
100% SATISFACTION GUARANTEED & EASY REFUNDS
The Checkout Process is Guaranteed to be 100% Safe and Secure with Visa, Mastercard, Amex, Discover, Apple Pay or PayPal.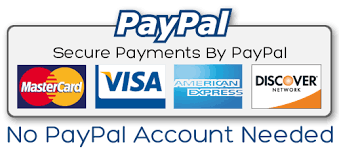 HIGH DEMAND & MONEY-BACK GUARANTEE
We want you to be 100% satisfied with the products you buy from us. If for ANY reason you are not satisfied with your purchase, we offer an iron-clad money-back guarantee.
We have a 24/7/365 ticket and email support. Please contact us if you need assistance.

Buying online can be a daunting task, so we want you to realize that there are ZERO risks in buying something and trying it out.