A cool and perfectly safe wooden 3d semi truck toy to get as a gift for both adults and kids.
EXQUISITE DESIGN:The wooden craft kit is not only functional and fun,but it is designed beautifully
FAMILY TIME:Thrill the entire family and provide fun
HIGH QUALITY:made of natural birch ply.
BEST GIFT:Wooden Planetary Gear will be a worthy addition to your kid's collections.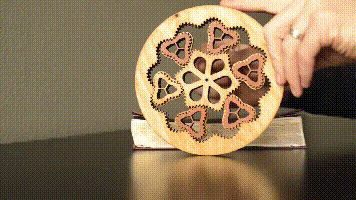 The gears are unique in that they are non-circular, this makes it especially mesmerizing to play with. I carefully designed it so that the gears are "captive" within the model, this means you can pick it up and hold it and actually touch and feel all the gears. There are no screws, mounting plates, or axles - it is entirely self contained.