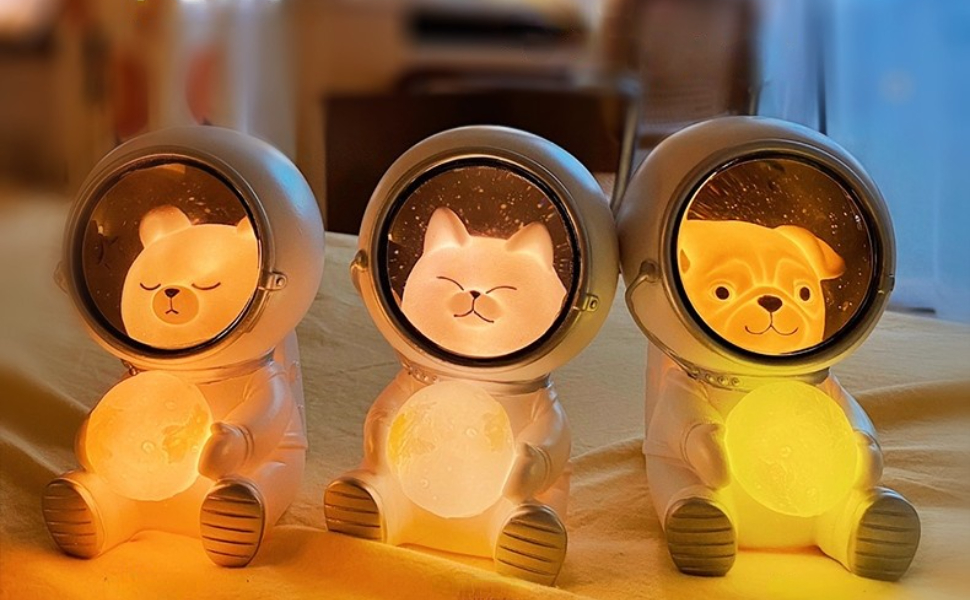 Product parameters:

Material: Resin

Power supply: equipped with button battery

Product size: 3.15inch x 3.54inch x 5.12inch
😸🐶🐼[ Cute animal shapes ]
You can see cute bears, kittens and puppies all wearing spacesuits and becoming interesting astronauts. The lights in the hands of different animal astronauts emit different colors. It will make your children fall in love with it at a glance, and will stimulate their imagination and improve their thinking skills.
😸🐶🐼[ The best gift for children ]
You can use it as a gift for children's birthday, Halloween, Thanksgiving, and Christmas. They are all very creative, and children like these animal-shaped designs.
😸🐶🐼[ Cool lighting effect ]
It can emit beautiful light at night, very soft, not dazzling, can be placed in the bedroom, living room, as decorations and night lights are a good choice. It can make you feel a warm atmosphere and illuminate your heart.
😸🐶🐼[ Lightweight size ]
The overall use of resin material, very environmentally friendly and strong, it does not need to be damaged when falling on the ground in time, its size is: 13x10x8 (CM) / 5.1"D x 3.9"W x 3.1"H in weight: 435 g, very light, you can put it anywhere you want .
😸🐶🐼[ Easy to use for kids ]
You just need to pull out the transparent plug at the bottom of our animal night light, and then flip the switch, you can emit a light, and children can also quickly operate it by themselves